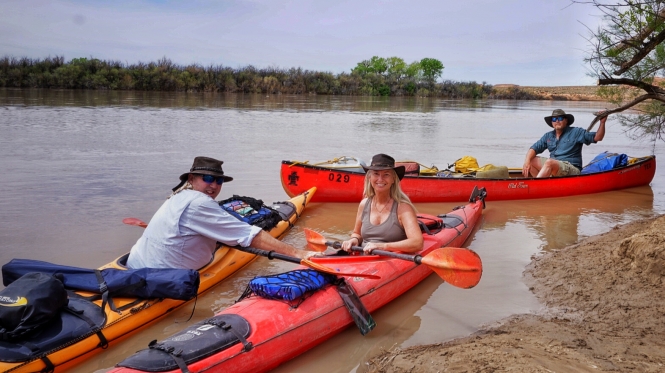 After kayaking 102 miles in late April through Utah's Canyonlands on the Green River to the Colorado River, it was the same. I was speechless. Oh sure if you asked me about it, my eyes would begin to glow and I'd race to pull up a few desperate images on my cell phone, but the majesty… the sheer perfection of it all? It has stayed reverent and silent.
Sitting at my laptop time and again, I began trying to corral the joy, the beauty, the serenity, the adventure. But nope. Delete, delete, delete. Words felt absurd.
Of course, if you're pondering a trip down the Green, you'll want me to press beyond the obvious beauty and get to the logistics:  How did we get boats? Gear and food for six nights of primitive camping? Get it all to fit? Were we safe self guiding? Did it break the bank? Was it scary?! Those details are simple and other people's accounts sure helped me gain courage as we were planning our own trip.
Actually it was planned by Jim and his buddy, Scott. (OK truth… it was planned by them FOR them and, when I realized where they were going, I added myself. Ha) We flew on Southwest Airlines (no change or baggage fees are a big deal) into Salt Lake City, Utah, and rented a car. Those were our greatest expenses and watching for deals helped. We went with Tex's Riverways, a Moab adventure outfitter, to rent two sea kayaks (watertight storage compartments are a necessity) and a canoe. They also provided a portable toilet (no solid waste can be left behind) and dry bags for an additional fee. Scott, who manned the canoe, says he wished he'd also rented a comfortable seat for it. (We didn't realize that was an option until we met other paddlers halfway downstream.) Having the canoe made a massive difference in the amount of food, water and gear we could take.
We are active outdoors, so already own basic camping gear like a tent, folding chairs, cookware and compressible solar lanterns, but we added certain items I now swear by. Scott brought a Yeti mug that kept tea hot and heavenly (and somehow became mine). His propane-powered cook stove was tiny and efficient. (Noodle soup and various freeze-dried meals have never tasted so good.) Perhaps most importantly he brought a GPS that helped us track our progress perfectly; this was important as we sought campsites. We slept comfortably on self-inflating air pads and warmly in 20-degree sleeping bags scored during an REI garage sale. (They happen quarterly and have insane discounts!) Body heat makes a big difference on cold nights, so my husband and I made certain our bags would compatibly zip together. I also ordered something on Amazon called a pStyle, which is basically a short plastic funnel that lets girls pee standing up. Hosanna, how did I never know this existed?! Ladies… game. changer!! (It has a discreet carrying case in case you're taking it to concerts, gross public toilets, etc. You get the idea.) We also packed in wet wipes, since showers would have to wait until the end of the week. That water was COLD!
We packed minimally for the seven days: comfy clothes and flip flops for camp, water-resistant pants, dry-fit shirts and Keen water sandals on the water. We also packed hiking pants, thermal wear, wool socks and knit caps, though temps never dipped below 45. Still, nights beside water can get chilly. I was grateful in the mornings that I had a hooded jacket and pants, which I shed as the day warmed. We learned to launch early to avoid midday winds, which can really slow your progress. I get cold easily, so it was a tremendous relief that I stayed very comfortable throughout the week.
So those are the basics. At no point did I feel this float was something any average kayaker couldn't handle. Tex's dropped us off at Ruby Ranch, a sliver of private property that allows kayakers to launch for a $10 fee. Early snow melt meant water levels were high enough to cover many of the sand beaches and that is one of the things that had worried me. Where would we camp each night and would it be a challenging burden? I soon found the upside was that we also had a swift enough current (never remotely approaching something so swift as rapids, mind you — I'm talking 3 mph) that minimal paddling enabled us to easily reach our daily goal of 16 miles in about three hours. That meant lots of time for hiking around camp and relaxing.
The outfitter provided us with a list of coordinates for potential campsites, with the caution that other boaters may beat us to them. Honestly that was never a problem; we only saw a dozen other people the entire week and finding a gorgeous spot to sleep was never an issue. In fact, they were dream campsites! Imagine leisurely hiking through canyons after pitching camp, then watching the sun set across the drift of gentle waters, soaring walls rising around you in every direction.
Several nights I got up in the wee hours to check the sky and HOLY COW raced inside the tent to grab my tripod and camera. The Milky Way was stunning and lazily draping across our camp! I'll never forget it! Sunrises were breathtaking, too, and somehow huddling around our little Jetboil camp stove to make coffee and oatmeal each morning was perfection. (We weren't huddling because we were cold… somehow huddling is just what you do when coffee is promised. Ha. Seriously I took gloves and don't think I ever used them!)
I meant to take notes of our journey so I could recap the best spots, but I failed to make that happen. Still I HAVE to describe what felt like the most remarkable day! We had been told to watch for the "saddle," a canyon wall that would appear on our right. It's actually part of BowKnot Bend, a nine-mile stretch of river that wraps back upon itself, passing on its return just a few hundred yards away. It's possible to climb to the top and perch atop the saddle to view both stretches of the river at once.
We didn't see a trail as we first passed it, so completed the loop and set up camp on the other side without spying a trail there, either. I kept gazing up, and there was plenty of evidence that a trail existed, but it seemed that perhaps a rock slide had made it unreachable. As Scott hung out at camp and Jim wandered around, I decided I'd go a little closer… and then closer… making my way up, up, up, step by step, knowing what I was doing could be foolish and even dangerous.
When I finally spotted a cairn, a stack of rocks placed as a directional arrow by some previous hiker, I got excited… I was on the right track! A path began to take shape and I desperately looked down hoping to see Jim and wave him up. Then, as I rounded a rock, there he was. He'd done the exact same (foolhardy) thing, climbing up a different route! Ha. Together we made our way to the saddle and waved victoriously to Scott from the tip top. Even from that distance, I knew he was shaking his head. The view was magnificent!
After six leisurely (and heavenly) days, Scott, Jim and I linked boats to drift across the Confluence where the Green River and Colorado River intersect. You had to know from GPS that it was there, because barely a ripple tipped you off. Still, we had silly fun toasting and celebrating our grand achievement. In just another mile or so, we reached our takeout at Spanish Bottom. It was bittersweet and felt a little jarring, since the banks were filled with other boaters awaiting jet-boat pickup. They were some of the first people we'd seen all week and, to tell the truth, I hadn't missed them.
The swift ride back up the Colorado River was cold and took about an hour and a half, so Jim and I were huddled under my sleeping bag while Scott sat miserably without one. Fortunately he makes friends easily and someone shared. (That is a story in itself, haha.)
The trip is one that I absolutely want to repeat… often. Annually would be nice! It was wonderful how life slowed down and Life took over!