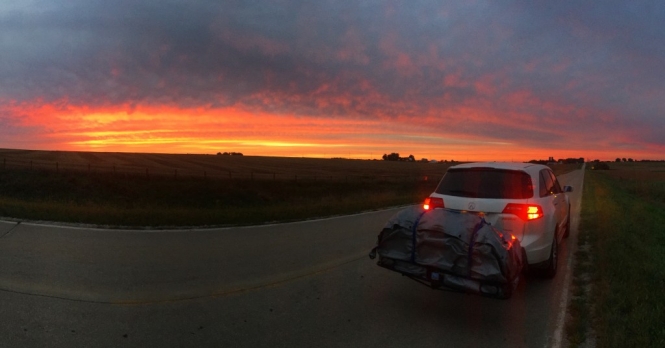 I try to slow down often to listen to my gut. You know, just be… and hear what needs to be heard.
It's simpler, mind you, to do Life every other way—especially with a cell phone that fits snugly in our grip and is so connected to relentless information, drama and distraction. Heck I don't really have to think at all, anymore. I can just surf the Web… all. day. long.
Scroll, scroll, scroll.
Even most who work in offices know it's true:  We are addicted. Literally.
When I stop long enough to read my own cues, it's apparent that it's time to disconnect from the phone and reconnect with what genuinely, soulfully feeds me.
"Get outside," my psyche whispers. "Inhale… exhale… smile."
It's connection that I crave. To myself… to you… to what is real.
No two people are quite the same (though I'm certain we are One), but for me what feels connected and restorative is nature. God feels tangible there. I still touch the bark of trees and marvel as I wander past. I see a dirt trail and am rarely happier than when I drift along it to its end. I stop to gaze at the bedazzled night sky and my mouth falls open in awe. (Seriously.) "Just wow," I whisper, reverently.
I'm grateful and, yes, curious. I wonder about stuff. Why don't hummingbirds get along? Where do butterflies hide in Florida? What was it like to head west before there were roads?
It's no secret to those who know me that I've long been drawn westward… the mountains, the grandeur, the still, endless vistas, the chaotic colors of canyons, the magnificence of the Pacific cliffs. Our visit to Utah six months ago left us hungry for more. Oh I love many other places, too, and few hold my heart like the cabin we've tucked into Alabama's uppermost foothills… it's where we poured ourselves into sharing nature with our children, who are now young adults and love it, too. The cabin will always be home and it's likely where we'll breathe last.
Still, the pull toward the other sea…
Two weeks ago, we began a roadtrip that, for us, has been unlike any other. As the city lights of Chicago faded behind me, I cheerfully said goodbye to what has been our second home the past 18 months.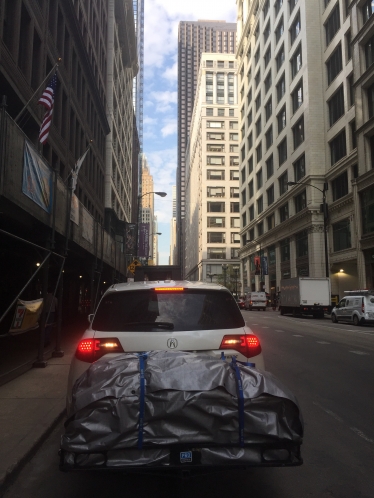 First racing alone toward Nebraska, gradually my breathing slowed and so did my pace. Always a fan of car camping and its simplicity, I slept cozily in a Lincoln Walmart parking lot, tucked amongst a dozen behemoth RVs. Potter is the ultimate electric blanket! Sunrises and sunsets kept us company along the way.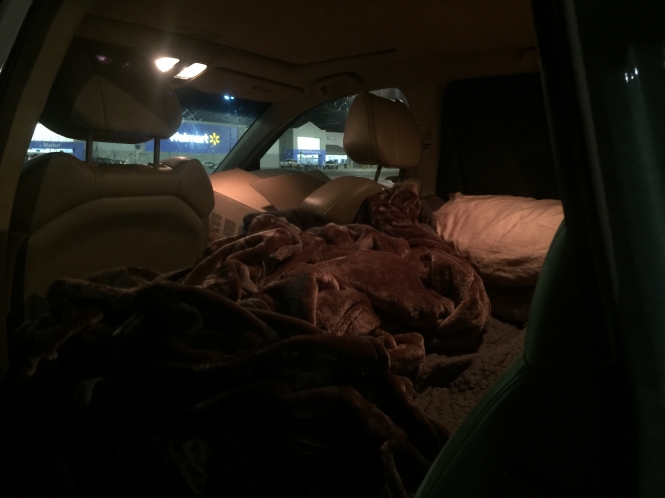 Meandering over to Denver, I had dinner with my friend Serenity (sweet name, sweet girl) before meeting up with Jim, who flew in. Though I didn't get any pictures this time, thanks to Mark and Shelley Scott for letting us crash in your basement and shower every time we pass through Boulder!

Together Jim and I (and Potter, of course!)  crossed up and over the Continental Divide and through glorious stands of glowing, shimmering, golden aspens.







Though we could've lingered in what is surely autumn's finest display, Utah was insistently beckoning and we continued on to camp in Moab.
Ah, Moab.
Pictures say it far, far better than words.













Gorgeous, right?!?
We also met my awesome photographer friend Emily Klarer and her boyfriend for lunch. Bonus!

From there we wove our way north to Ogden, where we got to hang out with new friends from my spring women's retreat.



Alas the weather didn't cooperate for a planned hike and kayaking in Salt Lake's mirror glow, so we continued to push west. If we'd had the time, we would've turned north to take in the glorious sights of Jackson Hole, Wyoming—my best friend from high school lives there—and kayak/camp in the Sawtooth Mountains of Idaho.
Instead, heading due west on Highway 80, we crossed the Bonneville Salt Flats and it seemed we'd crossed into another world. Like Salt Lake, the sheen casts a glow that is ethereal. With thunder clouds in the area and recent rain, the flats looked like a pond but were glistening salt. Just wow!



Though highway travel is nothing like drifting along behind the scenes, capturing the true character of small towns and vast fields, the topography's continual change toward mountains was exciting. The thrilled churning in my gut whispered soon, soon. (No, it wasn't time for a bathroom break. Ha)



With little fanfare, we passed Reno, crossed Donner's Pass and the WELCOME TO CALIFORNIA sign whizzed past before I could sling my camera into position.
We had arrived… to our new Home!
Seriously!!
Jim has accepted a new job in Sacramento (!!!) and we're buzzing around, figuring things out. Truth be told, I'm still pinching myself… there is more to explore than I can wrap my head around! Now we have San Francisco, Lake Tahoe and Napa Valley out our back door (don't worry… we're still a bit over an hour away from the terrible fires right now) and Potter will have sheep — yes, SHEEP — to herd in the pasture beside us.



You know us—we'll enjoy exploring so many hiking, kayaking and ski trails and are already diving in. Also, I'm told we have fig, apple, cherry, peach and olive trees on our property — how cool is that?! We hope to grow our first garden and finally work on our diet/fitness. Middle age has been brutal on our waists!
Last week, we visited a dear friend and kayaked in Bend, Oregon (here's looking at YOU, Polly Wog!), also a new (and deliriously happy) transplant from Atlanta. Celebrating Jim's birthday at Crater Lake, which has been near the top of our bucket list for YEARS, was spectacularly beautiful and fun. Perhaps best of all, it's a mere day drive from the house we've suddenly filled.











This past weekend, we headed down the coast a bit to explore Monterey and Big Sur. Just a few hours away, they're practically our backyard now! Pinch me… but don't wake me up!!





Along the drive, I came to a grand celebration at a newly built bridge. The old, multi-span bridge had been demolished and redesigned after a mudslide disconnected the Hwy 1 scenic route just south of Pfeiffer Big Sur State Park. It was actually fascinating listening to the speeches and hearing the details of the new design and construction. (I might've briefly hijacked the ribbon-cutting scissors.)










As the bridge speeches and hoopla were winding down and people were drifting over to the free taco truck, I approached a woman with beautiful eyes (above) and told her I'd really like to hike the trail they'd been trekking for months while the bridge was out. A ranger told me it is to be eliminated next week since the path will now spill out onto a highway with 50mph traffic. She described how I could find it and so I reverently walked alone along the dirt trail through the towering trees, then found my way through the campground on the other side of the ravine back to my car. I was smiling as I resumed my journey.


















 I love that our home will be Auburn (California), since Savannah and Corey also live in Auburn (Alabama)! Everyone we've met so far has been warm and welcoming, we have a few close friends who live nearby and we're excited about joining another great community!
Having said that, it's going to be a huge change and we're naturally a bit sad and nervous about being so far from most of our friends and family. Wish us luck as we tackle something oh so new — and come see us. 
Above all, listen to your own gut and honor, in the ways that feel personal and fulfilling, being Alive!